How to create different membership products with different durations, different prices and also restrict access to each product. Plus link items from the Product Catalogue to be included in the sale.
MANAGING YOUR MEMBERSHIP PRICES AND PRODUCTS
Note sure if you need a membership product or a new membership level? See this FAQ: Do I need a membership level or a product.
To manage your products and prices you need to login to your website and are required to have Editor Access of the Membership System.
Click on Membership in the top navigation bar
On the far left in the navigation click on "Membership Levels" and select "List Levels"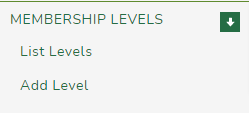 EDITING MEMBERSHIP PRICES AND PRODUCTS
To add and edit products click on the $ icon located to the right of the chosen level under Prices and Products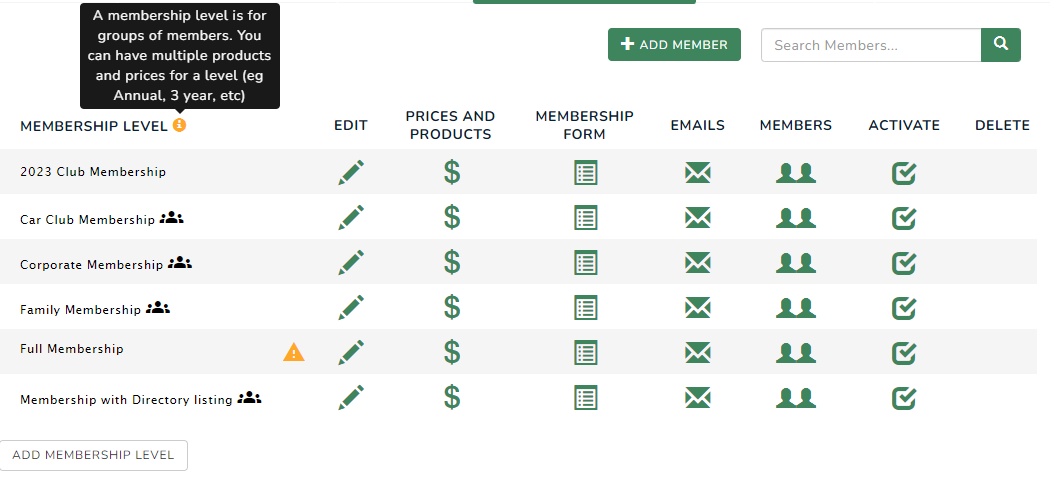 You will be taken to a list of all of the products that are currently available for this membership level. To edit a new product click on the "Edit" button located next to the product you wish to edit.

ADDING A NEW PRODUCT
To add a new product click on the "Add Product" Button located at the bottom of the product list, it will ask for you for all of the required fields.

Product Name: This is the name of the products that will appear on the front end of the website for members to select
Product Type: There are four different options for product type:

Standard: A standard product is available for both sign-up and renewal.
Signup Only: A signup only product is available only for sign-up
Renewal Only: A renewal only product is only available for renewal.
Auto-Renewing Subscription: Subscription products are only available to rolling date membership levels and are a completely automated subscription. Once enabled, a member can sign-up to a subscription product and save their credit card details against the subscription. Admins cannot import members into a subscription product or perform a manual renewal from a non-subscription product to a subscription product. There are additional options for subscription products:

Re-accept T&Cs: Select whether or not you would like the member to fill out a new form and re-accept the terms and conditions every year.
Allow Cancellations: This setting will determine if a member can cancel their auto-renewal at any stage prior to the term of duration of the membership being reached.

Period: The duration options will vary depending on your Membership Period Type. If you have chosen Rolling Date you will need to select from "Monthly, Quarterly, Bi-Annually, Annually, 2 Years, 3 Years, 4 Years, 5 Years or Perpetual). If you have chosen Fixed Date you will get to select (Annual, 2 years, 3 years, 4 years, 5 years or Perpetual).
Joining Price: This is the price of your membership for new members including any sign-up or setup fees
Renewal Price: This is the price for all renewing members
Tax Rate: If this membership product should charge a different tax rate to the site default tax rate, then you can customise the percentage charged here. This will then be shown on Xero exports as "GST Free income"
Auto Removal Days: Automatically removes the product from the member after 'X' days expired. This will force the member to signup again. For more details on this option see Auto-Remove Member's Expired Products
Secondary Members Allowed: This is the configuration setting that determines the maximum number of secondary members a primary member can have. Kindly note that this item is not available on all subscriptions. More details here Setting up Group Membership
Public Product: This determines if the membership product is available to be seen by everyone on your website or only to people who are logged in and have a certain access level. If you select "Yes" the membership will be publicly available. If you select "No" you will be given a list of all of the roles (including membership levels) that are available. Simply tick all of the roles that you would like to be able to see this new membership product. E.g. You may only offer 5 year memberships to current members and not new members. Once access is allowed, only 'current' members and members expired within 30 days can purchase a restricted membership product.
Allowed Roles: This field will only appear if your product is 'not' public. This is where you add roles, and users with this role will be able to purchase this product once logged in. To add roles, just hit the drop-down arrow to select and ensure to click the ' + ' icon after selecting the role. Please see sample image below.
Dataset Limits: This is where you can set dataset limits on the purchase of a particular product for each member. Kindly note that this item is not available on all subscriptions. More details here: Datasets

Once you have completed the form click "Add"
Your new membership product will appear in the list of products in alphabetical order as "INACTIVE"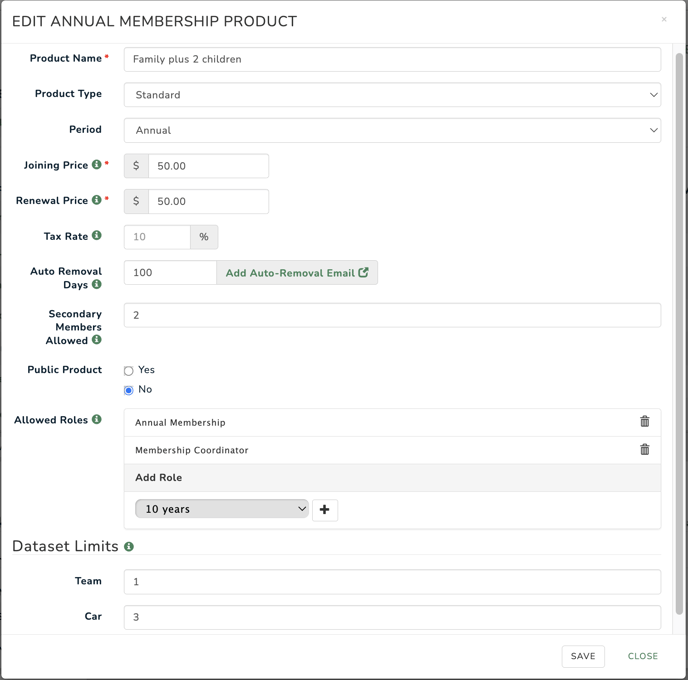 PRODUCT PRICING BREAKDOWN
When you are adding or editing a membership product, you can see the fees outlined next to the price. This will show how much your member will pay including any passed on fees, and how much you will receive after any service or gateway fees are deducted.


ACTIVATE A PRODUCT
To activate a product, click on the red button in the activate column. It will change to green and be instantly available on your live website.
DEACTIVATE A PRODUCT
To deactivate a product, click on the green button in the activate column. It will change to red and be instantly deactivated on your live website.
Note: It is not possible to remove a Deactivated Product.
AUTO-RENEW SUBSCRIPTION SET UP

When using Membership Subscriptions, the system will save the members payment details in the Member Jungle payment gateway. For this reason, the subscriptions are not available to websites that utilise external payment gateways.

Subscription products must be purchased by the member directly, and cannot be added by administrators. This is due to the members requirement to sign up and agree to the payment terms and conditions.

Subscription products are not available for fixed date memberships. Your membership level will need to be set to rolling. See Membership Level Setup for more information on what this means.

To have an auto-renewing subscription membership product, you will require this to be turned on for your website. If you do not have the subscription option in your membership settings, and would like to use this method, please raise a support ticket to let us know.
To find out more visit https://support.memberjungle.com/auto-renewing-subscription
LINKED PRODUCT CATALOGUE ITEMS
You can also link items from the product catalogue to each membership level so that they are offered to members as a part of their membership purchase.

Products can be linked specifically to this membership level or to all levels.
Visit Product Catalogue | Linking Products for more information.
Watch the Membership Tutorial Video