How to configure auto-renewing subscriptions and have your members purchase them.
Auto-Renewing Subscriptions are now available as a product option for Membership Levels. If you do not see this option when creating a new product, please contact us and we will enable access.

Important note: Subscription products are only available to customers using the Member Jungle Payment Gateway (third-party gateways like Braintree and Paypal are not supported) and 'rolling date' membership levels (fixed-date membership levels are not supported). Auto-renewing subscriptions are a completely automated subscription product. Once enabled, a member can sign-up to a subscription product and save their credit card details against the subscription. Admins cannot import members into a subscription product or perform a manual renewal from a non-subscription product to a subscription product.
Create an Auto-Renewing Subscription Product
Auto-Renewing Subscriptions can be added to a new or existing membership level. From the membership level screen click products to view/create products for the chosen membership level

. Next click

to view the add product screen.

Select Product Type of Auto-Renewing Subscription. If you do not select this product type it will not auto-renew.




Enter the details as requested using your own Product Name and Period of renewal. Other options are:
Re-accept T&Cs: Select whether or not you would like the member to fill out a new form and re-accept the terms and conditions every year.
Allow Cancellations: This setting will determine if a member can cancel their auto-renewal at any stage prior to the term of duration of the membership being reached.
Duration: You can select from Monthly, Quarterly, Bi-Annually, Annually.
Joining Price: This is the price of your membership for new members including any sign-up or setup fees.
Renewal Price: This is the price for all renewing members.
Auto Removal Days: Automatically removes the product from the member after 'X' days expired. This will force the member to signup again. For more details on this option see Auto-Remove Member's Expired Products.
Public Product: This determines if the membership product is available to be seen by everyone on your website or only to people who are logged in and have a certain access level. If you select "Yes" the membership will be publicly available. If you select "No" you will be given a list of all of the roles (including membership levels) that are available. Simply tick all of the roles that you would like to be able to see this new membership product. E.g. You may only offer 5 year memberships to current members and not new members.
Once you have completed the form click "Add". Your new membership product will appear in the list of products in alphabetical order as "INACTIVE". To activate the product click

.
You can confirm it is an auto-renewing subscription by this icon

next to the product name. Only auto-renewing subscriptions have this icon.
Members can now sign-up for this subscription.
Editing an Auto-Renewing Subscription
Once an auto-renewing subscription has active members any edits you make will affect their memberships. When clicking edit a warning window will pop-up notifying you of this: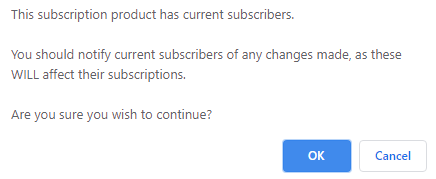 Click OK to proceed and be sure to notify all subscription members of any changes.
Purchase an Auto-Renewing Subscription as a Member
Only a member can sign-up for a subscription product. An admin cannot do this on the member's behalf.

A member can purchase an auto-renewing subscription the same way as any other membership product.

Once the member chooses the subscription product to renew to or sign-up for they will see a screen outlining the subscription payment schedule and terms. These must be accepted to continue.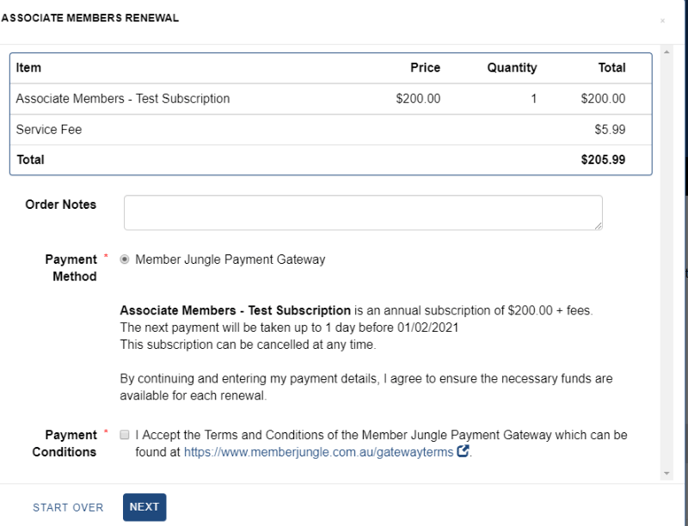 On the payment screen the member will need to enter their details and click confirm. This will store their card against their account in readiness for when the subscription automatically renews. "Store my payment details" is greyed out to ensure the card details are saved. This is not optional.
Managing Member Payment Details and Cancellations
Members can manage their payment details by logging in to the admin area and going to the

tab.
Under the My Payments tab they will see their saved cards and any active auto-renewing subscription products.

Add New Payment Method / Update Saved Card
Existing credit cards cannot be updated but a new card can be added and the old card removed. Multiple cards can also be saved and the primary card made "Default". The default card will be used against any active subscriptions.

To add a new card click

.

Enter the card details and click ADD to save.



The old card can be removed by clicking

.

If you wish to keep multiple cards saved make sure the correct card is set to default by clicking

to set the default card.

To view past payments click

. This will take you to the admin dashboard where past payments can be viewed and invoices downloaded.



Cancelling an Auto-Renewing Subscription
If the option to allow cancellations is set in the product a member can cancel their subscription at any time by clicking CANCEL next to the subscription under the My Memberships tab.



As an administrator, if you need to cancel a member's subscription you can remove the member from the level.
Automated Membership Payments
A member's expiry date shows when their next automated payment is due.

For example, if it is a monthly subscription it will show the expiry on the 30th of December, we will attempt to take payment on the 29th of December. If successful it will update the expiry to the 30th of January i.e. the day before the member is marked as expiring.
We will attempt to take the payment the day before it is due. If the payment goes through successfully the member will be sent an automated renewal email (using the standard membership level renewal email template).
If the payment fails, the administrator and the member will both be notified via email. The member is asked to make sure there is money in their account or update their payment details before the next day.
If the payment fails a second time, both the administrator and the member will receive an email to say that it hasn't gone through successfully. The member will be moved into Pending and be like an expired member with no access.
If the member wishes to keep the membership they must log in to their account and process a renewal from their clubs website.
Auto-Renewal Email Reminders
Auto-Renewal reminders will only go out if you have selected "Re-Accept Terms and Conditions at 12 months". Reminders will go out at the standard days before and after (set in Global Settings).