Easily create visible online member polls or have private online voting where the results aren't released until voting has closed. All members can only vote once and you can restrict who has voting rights if required as well.
The Poll module is available on our Standard and Premium packages. The Polls module allows you to run simple polls on your website. This could be used for simple things like, What's your favourite colour? or even for more complex polls like, Select three of the following locations for next years events?

Only logged in Members can vote and you can restrict a Poll to specific Membership Levels or Roles. Results can be shown immediately or not displayed until a future date (for members or both members and admins).

Contact our support team if the Polls module is not available on your site and we will get it activated for you.
Add a Poll
To get started click "ADD POLL".





Enter the required details as shown by the red asterisks.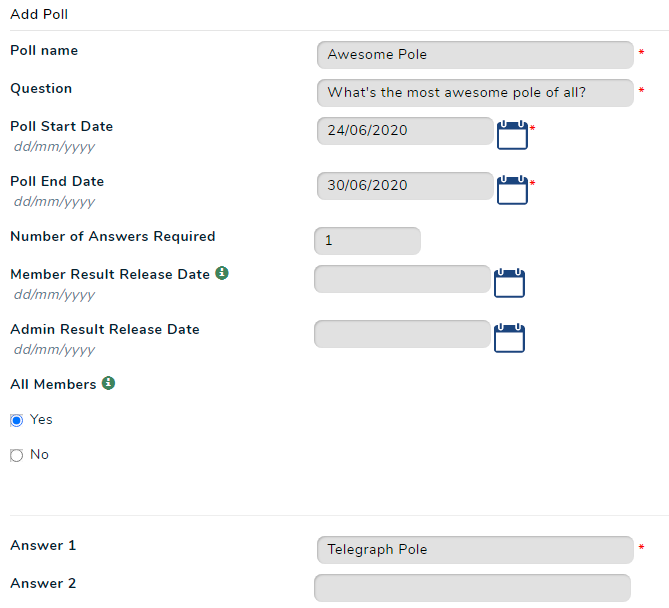 Next enter any optional settings:
Number of Answers Required: change this number for enforcing a number of answers, e.g. 3 would require a member to pick 3 answers.
Member Result Release Date: Leave empty to see results immediately. Enter a date to reveal results to members at the time set.
Admin Results Release Date: Leave empty to see results immediately. Enter a date to reveal results to admins at the time set.
All Members: Changing this to No will allow the poll to be restricted to specific roles. After No is selected the roles will appear. Select one or more roles as required.
Click SAVE & CLOSE to finish. Once saved you will need to active the poll for it to be live.



Activate or Deactivate a Poll
To activate a poll so it displays on your website, click the ACTIVATE button. It will display green once active.





To deactivate a poll click the ACTIVATE button. It will display red once deactivated.



View Poll Results
To view the results of a poll you can click the RESULTS button on the LIST POLLS main page.





Alternatively, you can select POLL RESULTS on the left navigation to view results for multiple polls





Next pick the poll from the dropdown list to view the results. All results can be exported to a csv file by clicking "EXPORT TO CSV".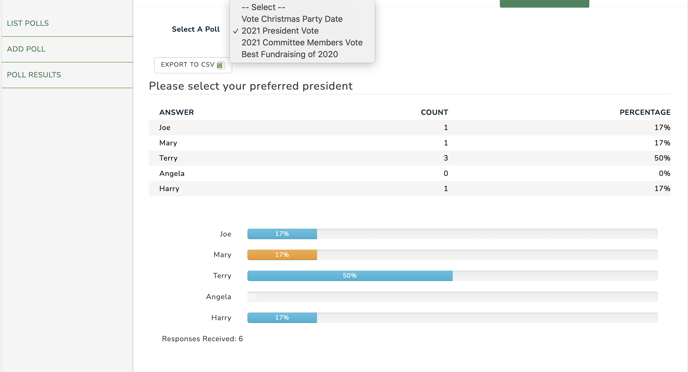 Show Available Polls on a Page
To show polls and allow members to vote you will need to have a page on your website selecting "Polls" as the Module Name. The page must also be active. If you would like any text to appear above your Polls, enter it into the content editor within Page Administration.
Refer: Add a New Page

The Poll Module page will require users to be logged in it will also show
- only all polls that are available to them
- if they have already submitted their vote
- the number of responses received
- the results if and when they are made available (determined by the Member Result Release Date)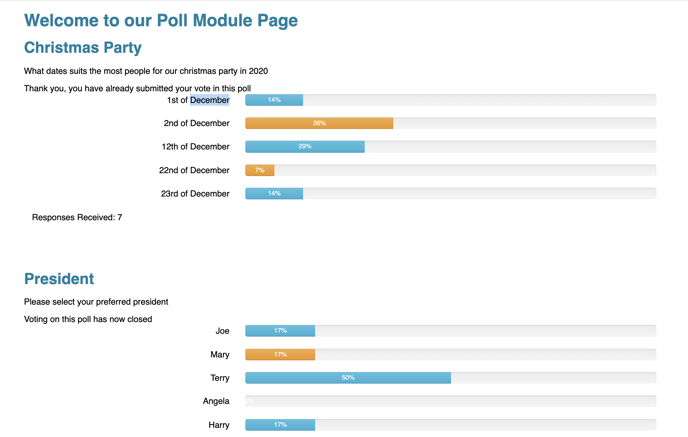 Adding Individual Polls to a Page
If you wish to only have selected poll(s) appearing on a page you can also add a Poll Widget you can add a Poll Widget to the centre or side of any page.

Refer: Adding Page Widgets