How to add a new page to your Member Jungle website.
To add a page to your website, you need to be logged in with Admin access, which will take you to the Page Management area.
Click Add A Standard Page on the left side menu and complete the fields: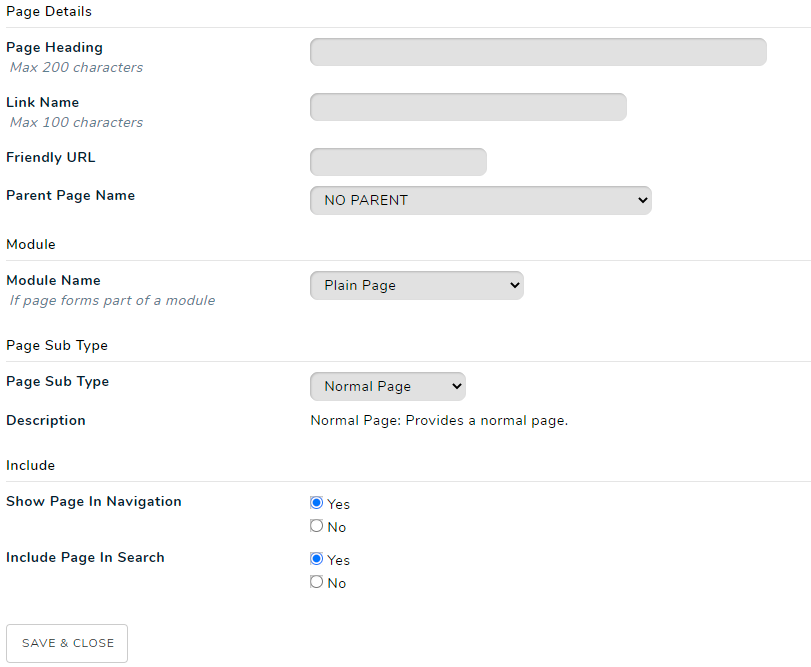 Page Heading: This heading will appear at the top of the page.
Link Name: The link name will appear in your navigation on your website to link to this page.
Friendly URL: This is used to describe the page, and make the URL easier to remember for viewers. It can also assit the ratings in search engines. See SEO Tools for more information.
Parent Page Name: If your new page is a subpage of another parent page, select the page which the new page is to be listed under in the navigation. If your new page is not a subpage, select No Parent from the drop down list.
Module Name: By default this will be Plain Page but if you want to associate the page with a module, select it from the dropdown menu. This page will then become the display page for that module.
Page Sub Type: Select the sub type for your page.

Navigation Node - this is not a page, rather a parent in the Website Navigation, which has child links that expand beneath it, when selected.
Link Page - A heading in your Website Navigation, which links to an external page.
Normal Page - A standard page with content

Show Page In Navigation: Select if your page link will be seen in the Website Navigation or not.
Include Page In Search: Select if your page will be searchable in search engines. If you select no, your page will not be indexed, and will not be found in the results when a search is carried out.
Click Save & Close.