Want to create your own homepage design? Here's how you can make an eye-catching design using the widgets available to you!
A homepage is probably the most important page of your website. It is the first thing that your website visitors see and it can leave a lasting impression.
The homepage designs that our website designers create are using Widgets.
If you would like to create your own homepage design for your Member Jungle website, here is how to make the most of the widgets that are available to you.
In this article
Examples of Widgets used on a homepage
Upload your Logo & Add Social Media Buttons
Planning your homepage
It is many important factors to consider when planning for your homepage design. In this planning stage, some of the things you should consider are:
what the most important information is on your website, that you want to feature to your members. For example, the membership and an online store may be your most important features, and so you should plan to feature these things on your homepage.
what the general "feel" of your website should be. For example a childcare may opt for a bright and happy feel, while a corporate business may aim to achieve a professional feel and look.
the wording that is displayed on your homepage. This information is important for a few reasons:
A) because it is the first thing that your visitors will read, to confirm that they have found the right website.
B) because the wording on your homepage is often used by search engines to suggest your website when someone does a search. Keep this in mind when choosing your wording so that you can include keywords where possible.
What is a widget?
Once you have made a plan for your homepage design, the next thing you should familiarise yourself with, is what a widget is, what it is used for and how to add and move them around in your widget editor. To read about this, please visit our article on Page Widgets
Selecting the best Widget for your homepage
There are several widgets that are available to you depending on the modules that you are using on your website.
Slideshows
Many websites like to have a slideshow image as the first thing website visitors see. You can add just one image so that it remains static, or add several images so that the slideshow rotates. Slideshows have several settings in the widget to also dictate things like if there is text on the image, or if the image zooms in, plus lots more. Read about adding and editing slideshows in our article about the Slideshow Module.
Content Blocks
Our most popular, and most modern widgets are "Content Blocks". Content blocks have lots of functionality available to you to customise just how they appear. The same content block can look completely different with a few different styling options available to you in the "advanced settings" tab.
For example, a Quicklink can look and behave very differently depending on whether you have chosen to use the Standard or a Roll-over style. Many of the Content Blocks can have background colours or images added, and again can make the content look unique to other content blocks of the same description.
Be sure to read about the types of content blocks, and their available settings in our article on Content Blocks.
Other Widgets
There are several other widgets available to you on your website. It is best to have a browse through the modules that you hope to display the information on, and see how the Widgets display on your website.
For example, if you would like to add some images from your photo galleries, then the photo strip widget might be a great choice. This widget will reload a different set of photos each time the page is loaded & can make a homepage nice and visual.
The Product Catalogue can display its featured products using a widget, the Email campaign can use a widget to collect subscriber information, and the Member Jungle App Widgets can display the download information that is needed for your members.
There is a huge selection of Widgets with different display options and settings available to you. Have fun exploring them!
Examples of homepages & the widgets used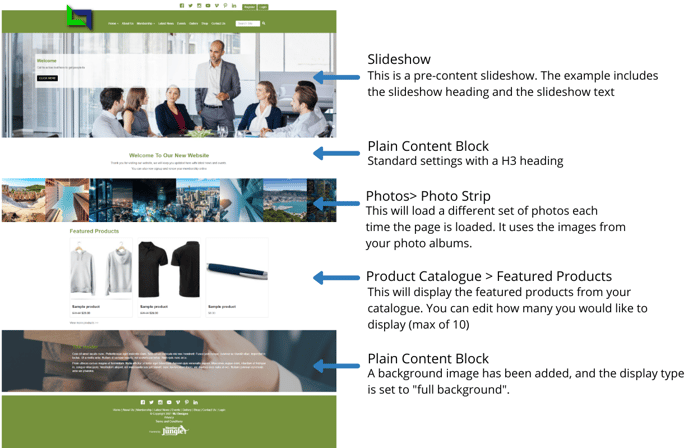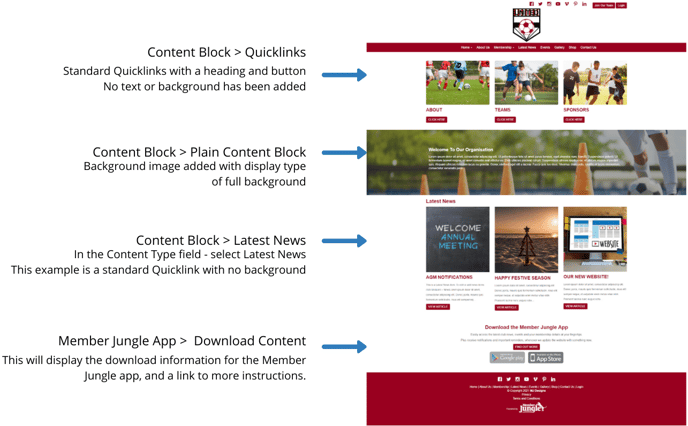 Creating Your Site Map
You can add your pages in the Pages module. For each page that you activate and have the settings to show in navigation, it will display in the navigation of your website. This is referred to as a site map.
To learn about adding, editing and activating pages on your website, refer to our articles:

Add Your Logo & Social Media Links
You can upload your predesigned logo, and create your social media buttons in the Site Design area of the Dashboard. You have the option of uploading both the site logo and the invoice logo (should you want the invoice logo to be different).
For further instructions of uploading your site logo, view the article on Site Design