What are content blocks, and how can you add and create them on your website.
What are Content Blocks?
Content Blocks are pre styled content widgets that are used to organise page content, and keep the page neat, informative and attractive.
There are different types of Content Blocks for different purposes.
In this section:
Adding Content Blocks to a page
Advanced Content Block Settings
Adding Content Blocks To A Page
To add a Content Block to your page, you need to be logged in with Admin access, and click on the Pages tab in the top menu.
Select the Widgets Icon
next to the page you wish to add a Content Block to. This will take you to a page where you can view all the Widgets currently active on the page, edit and delete Widgets, and Add new Widgets.
Click on
to bring up a list of available Widgets for the page.
From the list on the Add Widget pop-up, select Content Blocks on the left menu.
Click
next to the Content Block you wish to add.
The Content Block will now be listed on the Widgets page.

Types of Content Blocks
Plain Content Block
A Plain Content Block, is used to insert general content onto your page, which you would otherwise normally enter via the Content Editor. The reason you would use a Content Block for this content, is to have it appear on your page below, or amongst other Content Blocks.
Below is an example of a Plain Content Block.

For more information, see Plain Content Blocks.
Accordions
Accordions are used to insert content in to drop down information boxes.
Accordions are a way to organise a page that would otherwise have lots of information, under several headings.
Below is an example of some Accordions

For more information, see Accordions.
Tabs
Tabs are used to insert content in to headings, separated by horizontal tabs.
They can include text, pictures, media and documents.
Below is an example of Tabs.

For More information, see Tabs.
Quicklinks
Quicklinks are used to insert boxed information and/or pictures with links to click through to further information on internal or external pages.
Quicklinks can include text, pictures and links. The advanced settings in Quicklinks make it possible to add custom classes, item colours, images sizes, background colours or images and display settings such as full width, background full width or standard.
They are a neat and visually pleasing way to create links to other pages on your website or external sites.
Below is an example of some standard Quicklinks with a grey item colour and blue full width background.

For more information, see Quicklinks.
Display Cards
Display Cards are a fantastic Content Block, for use when you need to display an image, along side text.
The Display Card aligns the text with the image, and providing the images are uploaded large enough, it will automatically resize and align the images.
Display Cards act like a two column table, but are mobile responsive.
Below is an example of a Display Card.

For more information, see Display Cards.
News & Events Blocks
News and events blocks are designed to display the upcoming events and the latest news from these modules. This Content Block is always kept updated as it dynamically works with the News and Events Modules to add the content.
When an event has passed, the News & Events block will drop the past event off the list and display the next upcoming event. Likewise, the News will always show the most recent News articles and as new articles are added, the older ones drop off the content block.
The News and Events block can be customised in the settings to display just news or events, or both. There is also two display selections, of either side by side, or stacked (like example below). To edit these settings, click the cog on the widget.
Below is an example of the News and Events Block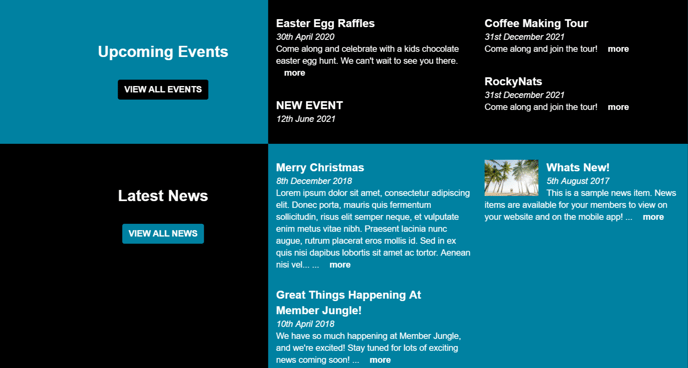 Advanced Settings In Content Blocks
Some of the content blocks have the option to customise the advanced settings. This is where in many you can add a class to your content block (and then add some styling if you know CSS), add background colours, sizes, settings etc.
See the links in the relevant content block types above to see what the advanced settings might do.
Re-ordering Content Blocks
To re-order your Content Blocks on your page, see Page Widgets.