Create and edit the automated membership emails sent when a member joins, renews or the automated renewal emails.
MANAGING YOUR MEMBERSHIP EMAILS
To manage your membership emails you need to login to your website and are required to have Editor Access of the Membership System.
Click on Membership in the top navigation bar
On the far left in the navigation click on "Membership Levels" and select "List Levels"

EDITING MEMBERSHIP AUTOMATED EMAILS
To edit your membership automated emails click on the emails icon located to the right of the chosen level. You will be taken to a page with all of the emails that are available. There are a number of emails that are available to you as well as a list of short-codes that can be included in the emails that will automatically pull in the relevant details from your website and your members.

USING THE SHORT-CODES
The short-code list is displayed in two sections the top section is the list of fields that are available in all of the emails. The items at the bottom are only available in emails that are after a member has been approved.
If you would like to include a short-code in your email click on the relevant short-code and then go to place in the email you would like it and hold down CTRL plus V on your keyboard, or COMMAND and V on a Mac keyboard. The code will then be pasted in your email. You can also paste by clicking the edit button on the top navigation and clicking paste.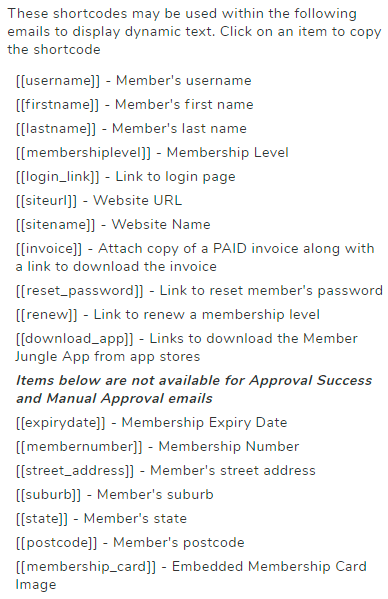 Please note: the [[invoice]] short-code will send a post-purchase PAID invoice. This short-code will not send an invoice for requesting payment.
AVAILABLE SYSTEM EMAILS
MANUAL APPROVAL
If you have manual approval setup for your membership system (that is users require approval by an administrator because of a process reason or manual payment type), then this email will be send to a member when they sign-up before their application is approved. This applies to new memberships and renewals.
APPROVAL SUCCESS
At this point the member has been approved by an administrator and can be sent an email to alert them. The system is still generating their membership number and card. You can choose not to send this email and instead just send the Sign-up Welcome Email.
SIGN-UP WELCOME
If you are using an online payment gateway and automatically approving memberships this is the first email that you will likely send to members. You can include their member number, username and their member card as optional content. This email is only send to new members.
RENEWAL REMINDER
This email is automatically sent to members when their membership is due to expire. You will see on the left hand side of the screen at what points you have chosen to have this email sent, to change these reminders go to your membership settings.
RENEWAL SUCCESS:
This email is sent to all members who have successfully renewed their membership.
AUTO REMOVAL
This will be sent to an expired member after they have been automatically removed from a level. For more information on auto-removing members please see Managing Membership Products and Prices.
EDITING YOUR SYSTEM EMAILS
You can make changes to the emails using the editor next to each heading. For more information on the formatting options in the editor, see help information on Using the Content Editor. Once you have finished editing the emails click on the "Save and Close" button at the bottom of the screen.
DISABLE AUTOMATED EMAILS
If you do not want the system to automatically send some or any of the emails to members, you can leave the email fields blank. The system will not send any email that is left blank. To make sure an email is blank click the "Source" button in the editor and remove any remaining text.
Please note: this does not apply to auto-renewing subscription product emails. These emails will be sent regardless.
Watch the Membership Tutorial Video