View all upcoming events, register, and add them to your calendar via the app.
SEE ALL UPCOMING EVENTS (AND ADD THEM TO YOUR CALENDAR OR REGISTER TO ATTEND)
You can view your clubs events by clicking the Events icon on the App home screen. This will take you to a list of the upcoming events on your club's calendar.
You can filter the events using the top sliding navigation above the events list. Here you can view all events, upcoming events, or the completed events that you registered or bought tickets for.
To view an event, hit the Events button on the club home screen and view the list of events.
For more information on an event, hit the event. Otherwise, you can register directly from this screen (if event registration is enabled).
If you have purchased a ticket for an event, you will see this detailed under the event.
If you have registered for an event, you will see "update", and you can update your number of attendees registered.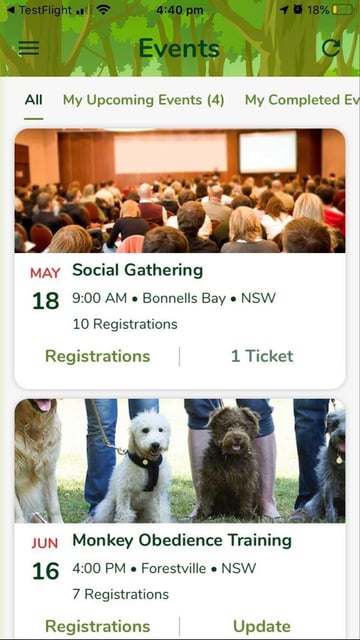 You can also view a list of attendees for an event (if enabled by event administrator). Just hit the Registrations button.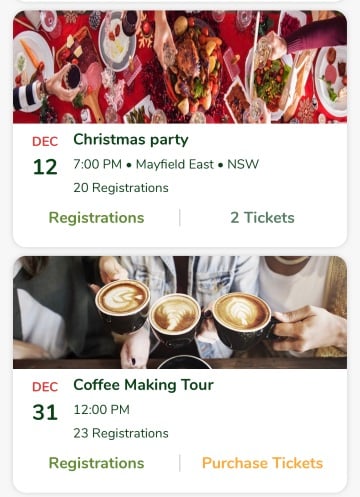 To add this event to your calendar, or to share the event, click the calendar icon in the top right of the event info page.
To add to calendar, be sure to click OK when asked to allow the Member Jungle App to access your calendar.
To share the event, click Share event, and then select the method you would like to use. This will share the event URL with the platform you use. For apps like Facebook it will also pull in the main image. You can then add any additional details before posting