How to setup and edit your Member Jungle Payment Gateway so you can take online payments on your site.
When you are ready to start taking payments online all you need to do is configure your payment gateway and add your organisations bank account details to receive the money transacted.
To find out what additional requirements are needed please go to Modules in the top navigation bar and select Member Jungle Payments. Please click on the "Complete Account Details" button to access your Member Jungle Stripe Gateway information.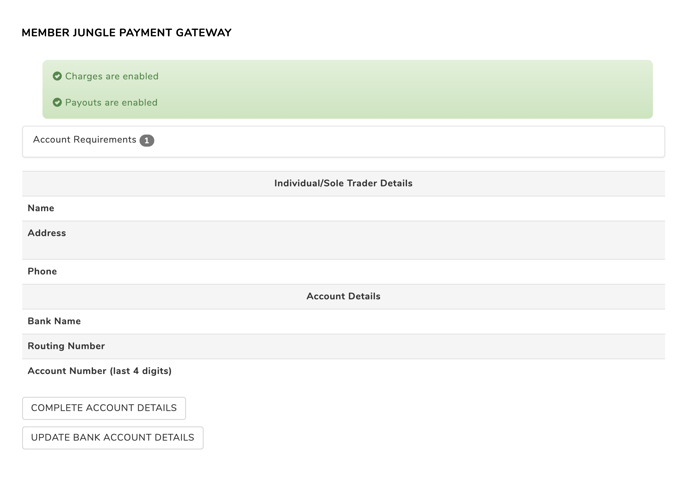 You will be taken to a secure area to start completing your details. Click "Get Started" to begin.
The information required for each organisation may vary for easy organisation. Please follow the steps and upload the information as you go. With the new rules, it is most likely that you will be required to add additional photo identification for the main contact (i.e.a photo of the back and front of your licence).
When your information is all completed, you should be able to follow the prompts and be returned to your Member Jungle Administration area.
Your details may take a couple of days to verify so please don't leave it until March 30. If there is anything else required, we will be notified and will be in contact with you directly. If you return after a few days and the "Account Requirements" section is gone, your gateway setup is complete.
If you encounter any issues please raise a support case via the Contact Us page.