How to email members via the membership system. NOTE: this is separate to bulk emailing or sending marketing emails to members via a linked email campaign.
Email your members directly from the membership area, with the Email Members button.
You will find this at the top of the Membership area, when you click on Members in the left navigation.

Searching for email recipients
First you need to select your email recipients by carrying out a search for your members.
To send the email to your whole member base, you do not need to search your data base.
Alternatively, if you have a specific member, or membership level etc that you would like to email, click the Advanced search button, and fill out your search criteria.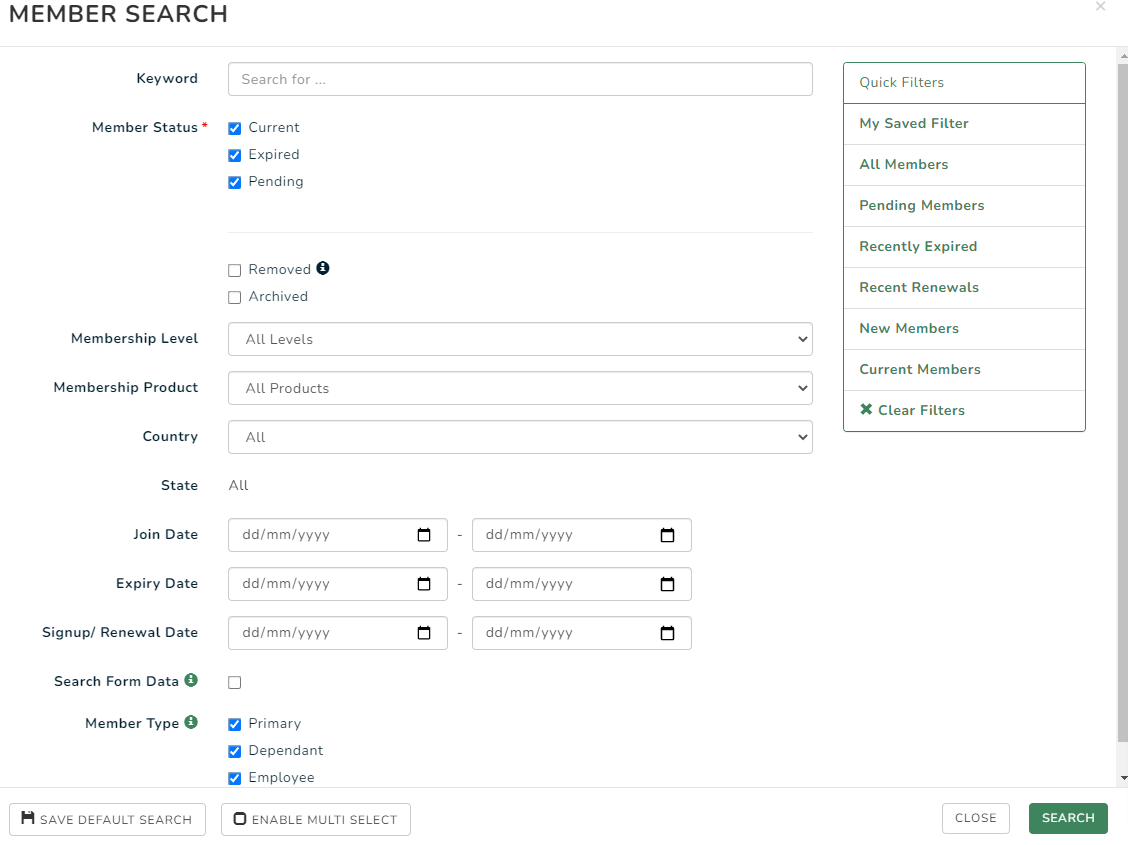 Clicking 'ENABLE MULTI SELECT' will allow you to select multiple membership levels and membership products. Please refer to your computer operating system help for how to make multiple selections. e.g. on Windows operating systems you need to hold down Ctrl and left click on all required selections.
Once you have the search results for the list of members you intend to email, click on the email icon to start creating your email.

You will see the number of members you are going to email in the "To" field. Here you can click on the members to see a list of recipients.

Creating your email
Now that you have your email recipients, you can create your email.
You will need to include a from email address, and a from name (this can be your name, your organisation name etc)
You can type your email from scratch in the Message field, or you may wish to use the dynamic fields in the right column of the screen to have the system populate the information from the member database for you. To insert these fields, simply click on the field you wish to use to insert it into your email.
You can also use a template email, which you will find in the template icon, which includes such information as how to download the Member Jungle App, a Welcome email to new members to tell them how to first log in and set their password, and some generic templates which give you a layout of images and text for you to populate.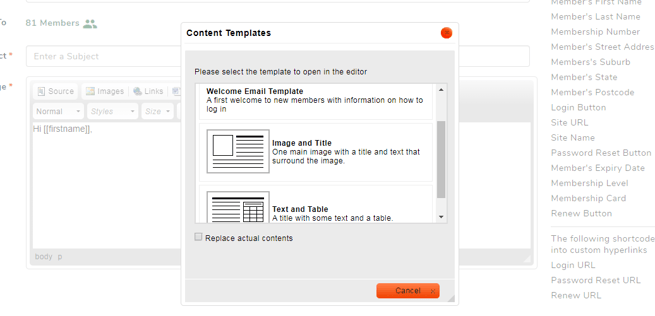 Sending an email
Once you have completed your email, you will see your options at the bottom of the pop up, where you can;
cancel sending the email. This will delete all contents and recipients
preview the email in your browser. Be aware that this can use the styling of your website, and in these cases will will not be a true representative of the email. If the email does not look accurate, it is best to send yourself a test email.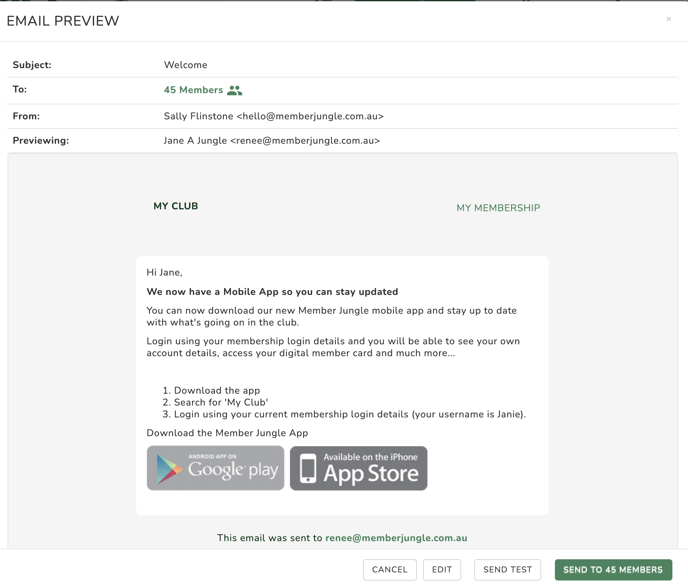 send yourself a test to view the email as it will display in your members inbox. it to your members
send to members. This will instantly send your email to the chosen list of members, and will show you a progress bar, and notify you when the email is successfully sent.

Unlike the email campaign module, you cannot track statistics on these emails that are sent directly from the membership area. However you can view if a member has been sent an email by click on the members name, and then selecting the email tab to view the list of sent emails.
Emails that are sent directly from your membership area, are unlimited and free on all of our packages, and will not reduce your email credits in your email campaign.