Select or Change your Member Jungle Subscription
You can view your Member Jungle subscription if you are an Authorised Contact by clicking on the user icon in the top right hand menu of the administration area and clicking "Subscription and Billing".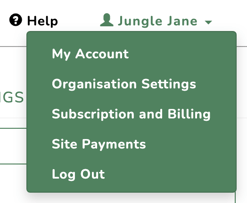 View your Subscription Details
You can see your subscription details including
The Package you are using or trialing
The number of members the package includes
Your current member count (this includes Current and Expired Members only - not archived or removed)
Your current monthly subscription and how many registered members you are paying for (this may include additional members above the included member numbers above)
The domain name your website is using and a link to find out more information about using your own domain name.
The option to then "Start Subscription" or "Change Package"
To compare all current packages or calculate the cost if you exceed the included member numbers please click below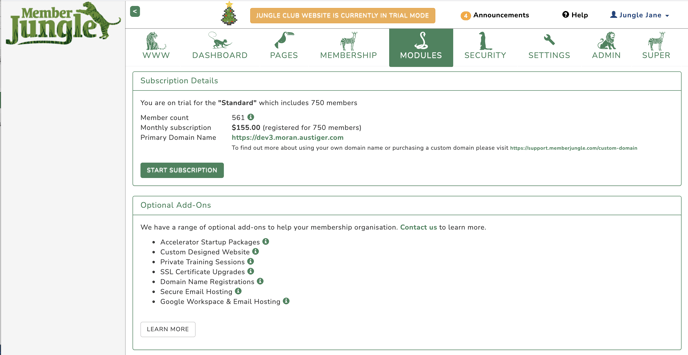 Move from Trial to a Paid Subscription
If you are still on a trial version of Member Jungle, you can see what package you are trialing and when you are ready to full move the full version click on the Start Subscription button and complete the application and terms and conditions form.

As soon as we have received and verified your details, your site will be given full functionality.
Change Subscription
To change your Member Jungle Subscription please click on the "Change Package" button under Subscription Details and complete the form.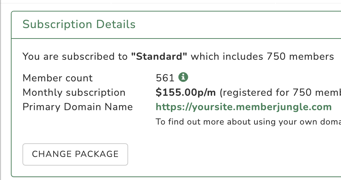 Optional Add-Ons
We have a range of optional extras for if you would like some extra assistance setting up your site, private training or email hosting we can help! Here is a brief list of optional add-ons, click on the "Learn More" button for more details or to request more information.