How Members can add, edit, delete and see datasets i.e. Cars, Working with Children Checks, Dogs etc
Note: Datasets are an optional add-on, if you can't see them on your site and want to find out more, please raise a support ticket here.
Datasets when Members Sign up or Renew their Membership

When a member is joining or renewing they will be able to add, edit and delete datasets (dependant on field restrictions).

If Datasets are required (in the Membership Form) and a limit of 1, it will appear as the "Working with Children Check", just as a standard datasets on the Membership Form. (as shown below)
If the datasets are not set as required (in the Membership Form) it will appear with a +Add "Datasets" button as shown below "Add Cars"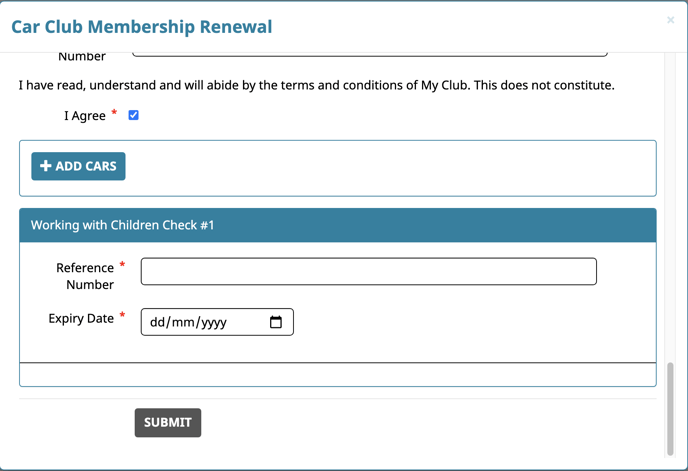 When a member clicks "Add Car" the datasets will appear on the screen for them to enter the details for each car. The +Add datasets button will appear until they have reached the limit set by the administrator.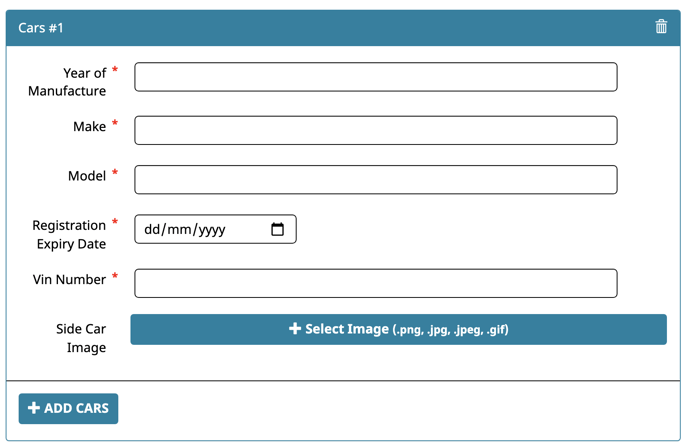 Members can "Delete" a dataset by clicking on the Bin Icon to the right of the relevant dataset.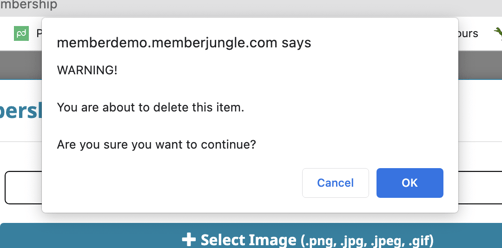 NOTE: Deleted dataset Information CANNOT be retrieved and is permanently deleted, regardless of if it's deleted by a member or an administrator.
Datasets Tab in Members MySite Area
Members can view, add and edit their datasets in a dedicated tab in their membership area. When they are logged in, they will see the tab where they can view each set of data, and can view, update, add and edit the information.
In the example below, the tab has been named "Supporting Info", and it contains 3 different Datasets for Working with Children Check, Qualifications and Teams.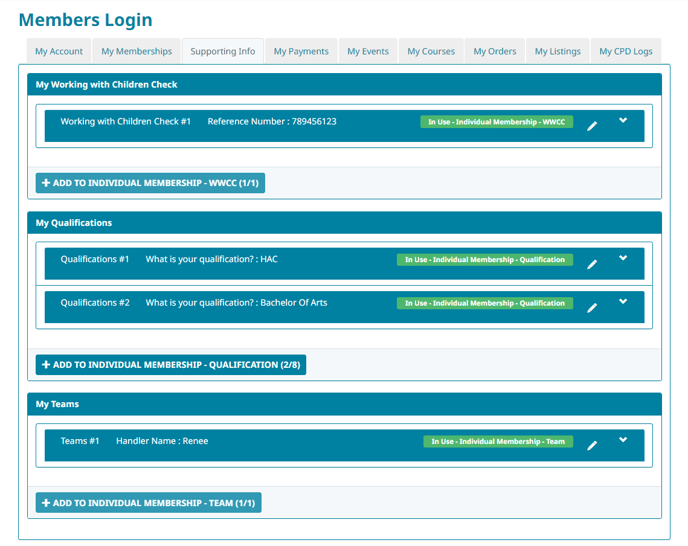 To see how to customise the name of the tab that your members see, please see our article Customising the Datasets Tab & Button on Mobile App
Datasets in the Mobile App
Once you have added which Datasets should be available to your members to view in the tab (see Displaying Your Datasets in the Tab & Mobile App for your Members) your members will also see a button display in the shortcuts on the mobile app. This will display the datasets, and allow viewing and editing via the mobile app.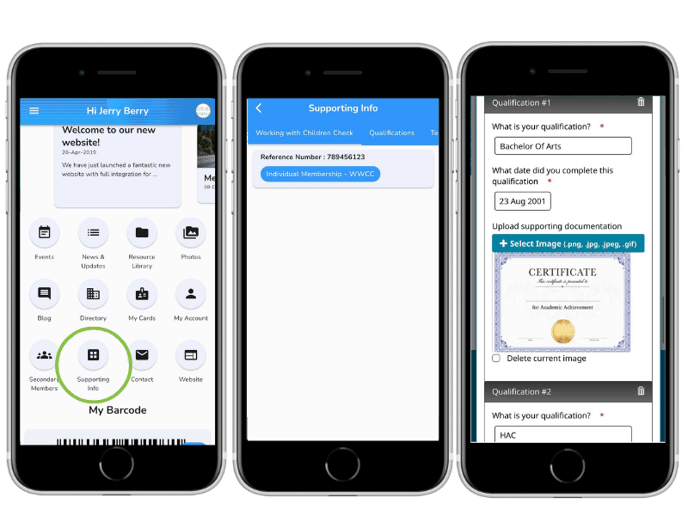 Editing and Adding Datasets (Not During Signup or Renewal)
When a member logs in, they will see a "Datasets Tab", which can be named according to your club in the Membership Settings area, as shown below to be "My Garage".
Members can see all of their datasets (which are set to be shown) here and edit, delete and add additional items.
As shown below, if a member deletes a dataset, the records stay visible it just appears as inactive, they can also add dataset up to the limit of the product they have purchased.
When a member clicks on the edit icon, it will take them directly to their membership form to edit and maintain their dataset information, (as detailed below).

Editing and Adding Datasets (via Membership Forms)
Whether a member edits via the Membership form directly or via the Datasets tab, above, they will need to make the changes in their Membership Form.
To edit a dataset members can either click on the edit button mentioned above or access directly via the Membership Tab and click on the "View Membership Details" button located beneath their member card.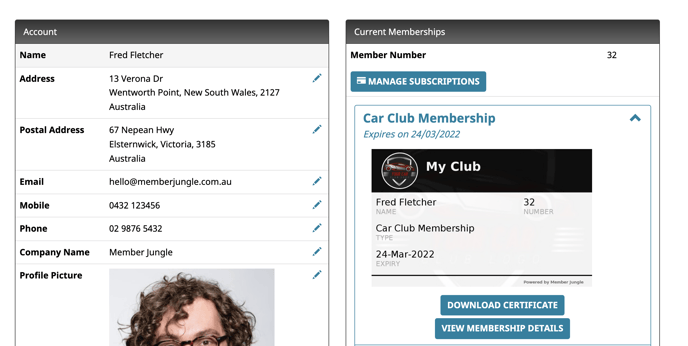 Scroll to the bottom of the screen and click the "Edit" button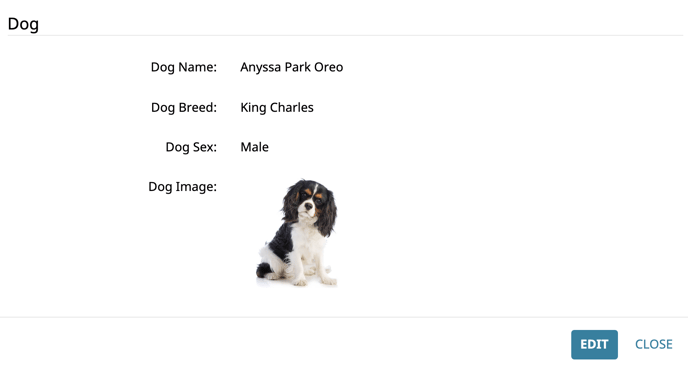 Once they are on the membership screen, they will be able to add more datasets, edit permitted fields and delete datasets as well.
When you are completed click "Save" at the bottom of the screen.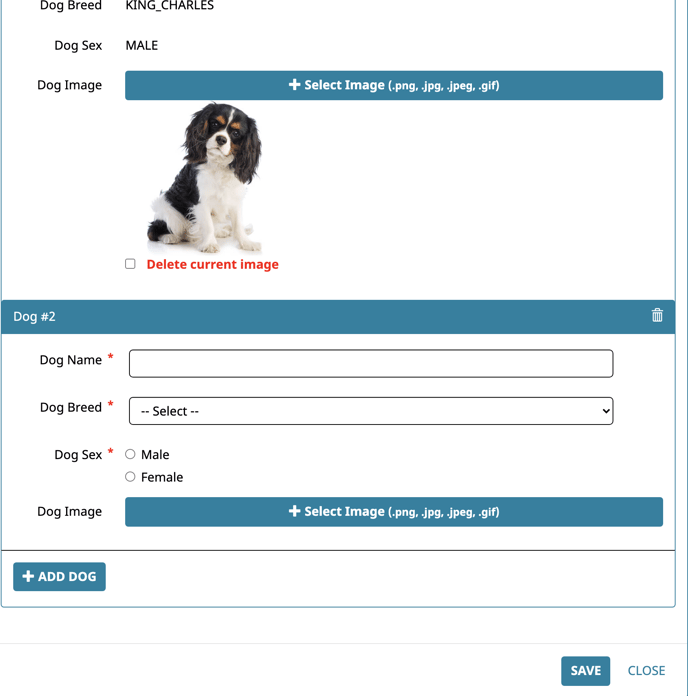 See Related Article