Search Engine Optimisation Tools.
We are not Search Engine Optimisation specialists and recommend that if you want to achieve high ranking results you consult an expert in this field. Ranking in search engine results can depend on a number of different factors and is always changing.
There are however a number of DIY Tools built into your website that will help you optimise your website. Remember it can take 4-6 weeks before you may even see any changes at all.
Site wide SEO Tools are included in the Organisation Settings section of your website, and also on each page so you can optimise the page for different searches that relate to your business e.g. the ColdFusion hosting page is optimised for ColdFusion hosting only.
Accessing SEO Tools
To access the SEO Tools page please log in as a Site Administrator. From the admin dashboard click on your user account in the top right part of the screen then select Organisation Settings.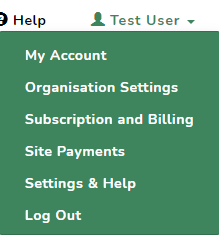 Now select CONTENT MANAGEMENT from the left navigation.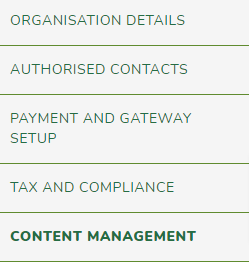 You will now see the SEO Tools section.
Site Wide SEO Tools
It is important to complete the set up of the site wide SEO as they act as the default for the entire site should you choose not to customise your individual page's SEO tools. We recommend at the very least you optimise this section and your homepage.
Complete the fields as per the instructions;

Site Description: This description will be visible in search engines when displaying a link to your site. So make it eye catching and relevant to your site, to "sell" your website to the viewer. Keep in mind, that a search engines results often show only the first 160 characters, so we recommend you try and keep close to this number of characters.
Site Keywords: Here you can enter relevant keywords that relate to your website and business. Try to use words that someone searching for your site might type in to the search engine, and in order of importance. You can enter more than one keyword, and separate them by a comma. Try to keep your keywords to a minimum. Please note: page keywords will override these keywords.
Site Head Code: This <head> text will be included in every page on your website. This field is typically used when you need to include content in your head code for third party tools, like Facebook Pixel Code. You can paste it directly in here and it will appear in your head code on every page.
Site Body Code: This text is included at the body code of every page on your website, as with the head code, if you have a third party tool that needs to included you can paste it in here.

When you have completed the fields, click Save.
There are many other factors that affect search engine results, so remember adding this information isn't going to jump you to the top of Google Rankings. Also any changes to any information here can take 4-6 weeks to even show any results.
Page Specific SEO Tools
To find these tools, go into the Page Management area of your website and edit a page; you will find three fields at the bottom of each page:
Page Titles: Page titles are the headings that appear in search engine results, they should not be more than approx. 60 characters. To read a guide on how to write the best page titles for Google click here.

These titles also appear in the top tab of your browser, like the example below. The page title is Membership Management, which makes the tab at the top of the browser, titled "Membership Management".
Page Descriptions: Your page description should be approx. 160 characters long and is the first two paragraphs that appear under your page title in search engine results. They need to be simple, easy to read, and encourage people to click and visit your website. See below example, showing the text entered in the Page Description Field, is the description under the link in search engine results.
Keywords: You can enter your main keywords here separated by commas. Try and keep them to a minimum with just the ones that relate to the page
Other Ways to Optimise Performance
Along with the build in SEO tools on each page, there are other things you can do to increase your websites visibility in search engines;
Make sure that you have taken up your free Google My Business listing so you show up in the Google Search and map listings - see https://www.google.com.au/intl/en/business/
Use keywords in your "Page Headings"
Make sure you use your keywords throughout your content i.e. if you want to be found for Web Developer Newcastle, you need to make sure you mention Newcastle throughout your site.
Use keywords in the "Friendly URL" section when you are creating new pages, just make sure that the keywords relate the page content
Double click on the images that you have inserted into your page content and add a few keywords into "Alt Text" that relate to that page or image
Update your content regularly, particularly in the News or Blogs module
When you are writing blog or news articles, use keywords and answer questions that your potential customers might ask when they are trying to find your services/products
Use videos on your website and on YouTube that use keywords in the sub-titles. Make sure you put a call to action at the end of your videos to direct traffic to your website when they are finished watching
Consult an SEO Expert
We work with a number of different SEO experts that are familiar with our system. If you would like some more details, please raise a support request and we will send you through details.