Email members and non-members who've registered or purchased tickets to an event. NOTE: this is separate to bulk emailing or sending marketing emails via a linked email campaign.
Email your event registrants and ticket purchasers directly from the event registration/ticket list. From the Events dashboard you will see a list of available events. Click the REGISTRATIONS OR TICKETS button to view a list of attendees.

From the attendees screen you will see a button

. Click this button to load the email form.
Creating your email
Now that you have your email recipients, you can create your email.
You will need to include a from email address, and a from name (this can be your name, your organisation name etc)
You can type your email from scratch in the Message field, or you may wish to use the dynamic fields in the right column of the screen to have the system populate the information from the member database for you. To insert these fields, simply click on the field you wish to use to insert it into your email.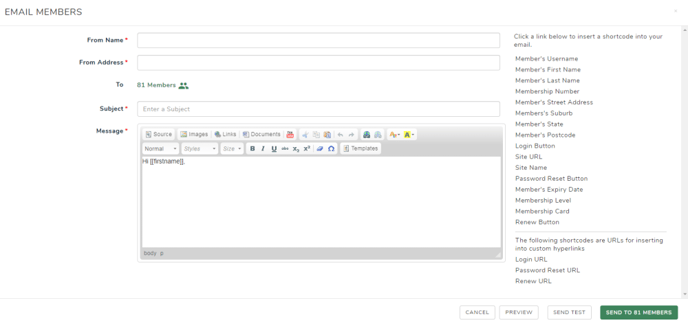 You can also use a template email, which you will find in the template icon, which includes such information as how to download the Member Jungle App, a Welcome email to new members to tell them how to first log in and set their password, and some generic templates which give you a layout of images and text for you to populate.
Sending an email
Once you have completed your email, you will see your options at the bottom of the pop up, where you can;
Cancel sending the email. This will delete all contents and recipients.
Preview the email in your browser. Be aware that this can use the styling of your website, and in these cases will will not be a true representative of the email. If the email does not look accurate, it is best to send yourself a test email.
Send yourself a test to view the email as it will display in your members inbox. it to your members.
Send to members. This will instantly send your email to the chosen list of members, and will show you a progress bar, and notify you when the email is successfully sent.

Unlike the email campaign module, you cannot track statistics on these emails that are sent directly from the events area. However, you can view if a member has been sent an email by click on the members name, and then selecting the email tab to view the list of sent emails.
Emails that are sent directly from your Events area, are unlimited and free on all of our packages, and will not reduce your email credits in your email campaign.
Automatic Event Email
Your members will be automatically emailed when they register for an event.
To customise the message that is sent to your members on registration, add content to the "Registration Message" field on the Registrations tab of the event. This message will then be displayed on the screen upon registration, and also included in the registration email.