How to add and manage products in the Online Store Module.
Add a new Product
Hover over 'Modules' and click on 'Online Store'.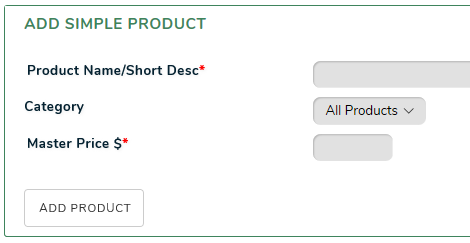 You can add a simple product by filling out the above form. Note that '
Product Name
' and '
Master Price
' are required fields. Then click
ADD PRODUCT
. You will be taken to the Product Details page below.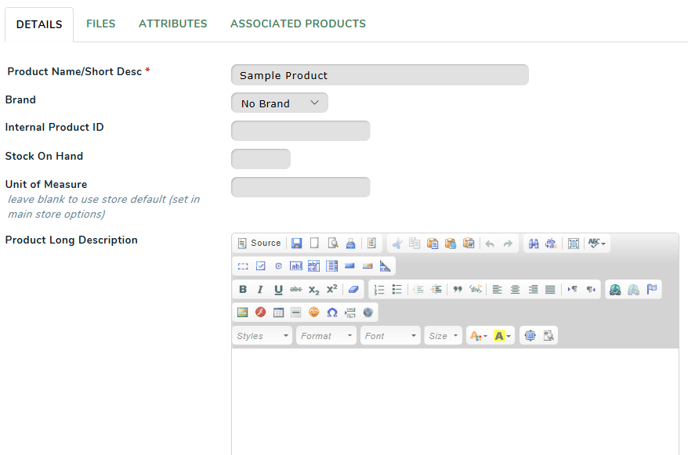 Next you will need to fill in the main descriptive details about the product you are about to add.
Give the product a name, this is required. (If you used the 'add a simple product' form this will already be there).
If you are using brands in your store, you can allocate what brand the product is by clicking on the drop down menu.
Other optional fields include internal product ID if you are using one, if you are using stock levels, put in the number of items you have in stock and unit of measure if you require it.
Another important field to fill in is the long description. This is where you can add a summary about the product you are selling.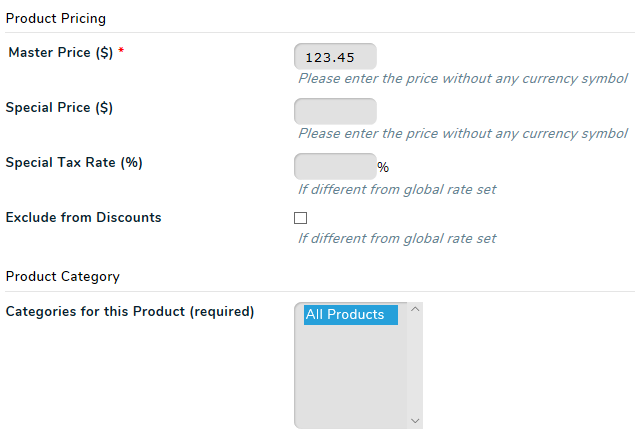 Add in the price of product you are selling. If you have no price then put in 0 and the product will display on the front of your website but wont be able to be purchased. Users can enquire about the product. The price will be displayed as POA.
If you want the product to have a special price you can add this in the Special Price field.
If you require a different tax rate for this product, you can indicate this if required.
You can also exclude products from discounts so your store wide discounts wont apply to the product if required.
Make sure you select a category for your product. You can put your product multiple categories if you require them to be in different categories in your store.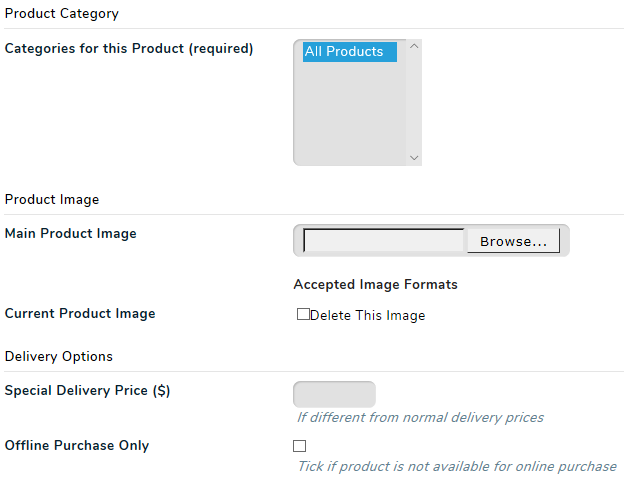 To upload an image make sure the file format is GIF, JPEG, JPG or PNG.
Click "Choose File" to search for the image you want to upload and upload it.
If you want a special delivery price for your product because it may be oversized and require a higher delivery cost applied, you can add this to your product if required.
If you want your product to only be available to be purchased offline you can tick this option.
Once you have finished with adding in all your details, click save.




If shipping by Australia Post make sure the criteria is met and put in the weight of the product.
If the product is only available for a specific period or to members with a specific role, then fill out the details.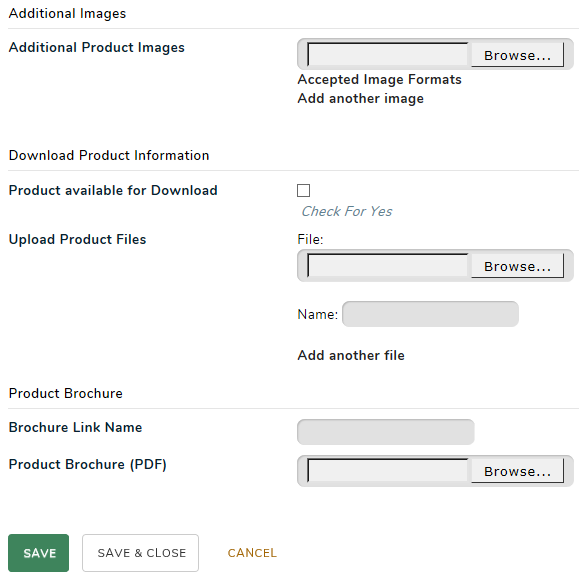 If you have additional Product images you upload them by clicking on the 'Browse' button.
If you would like to upload a Product file with more information you can make this available to download, by checking the box.
If you have a PDF brochure for example that you want to upload to your product you can do so here.
Once you have finished, make sure you click save.
Updating Your Products
If you want to go back into your product to edit the details, go to 'Product Catalogue' and then click 'Products'. you can click on the edit icon
to make any changes to the product.
If you want the exact same product duplicated so you can change some details such as colour for example, you can click on the clone icon
to duplicate the product. Then you can make changes to the duplicate as you require.
To make the product feature in "Featured Product" outputs in widgets on the the front end of the website, click on the
to make the product a featured product.
The orders icon

will show you statistics (below) on the number and details of orders, of this particular product.
You will also be able to search by name, order number, Order Status or Date.



Product Variants
Product variants are used when a product comes in different sizes or colours.
To add a product with variants simply click the 'Add a product with variants' link.
Put in the details of the product. Only the 'Name' and 'Categories' are required fields. It is a good idea to give the product a Description and upload an image and click 'Save'.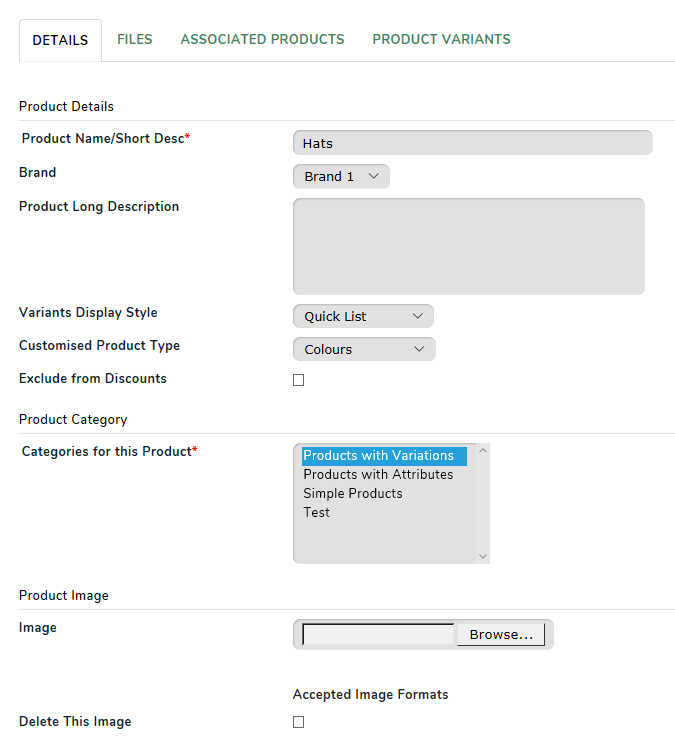 In the 'Product Variants' section click 'Add a variant'.
Give it a 'Name', add a number for 'Stock on Hand', a Long Description and give it a price.
Click 'Save'.