This is where you view and edit personal details.
Account Details
The Account Details area, is where you can view and edit your personal details and password.
To enter the Account Details area, click on the Dashboard tab from the top menu bar, and select Account Details.
You will see all your current details. Edit any details you require by highlighting the field and typing the new information.
When you have completed your edit, click Save & Close

Account Creation - Add Title to account (Mr, Mrs, Dr etc) - Admins only

Now an Admin can edit the Form fields for 'Account Creation' under Membership levels and select an option to add 'Title' to the captured data surrounding Account Creation.
Click 'Form Fields' under the relevant membership level and then click 'edit'.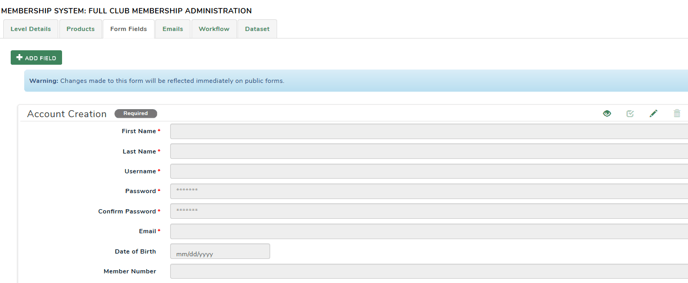 Tick the 'Show Title' box and then this extra information will be captured and displayed when viewing a members details or exporting member details.